With the help of the VSZT technology, we have formulated a bioactive cream family free of allergenic materials, containing natural agents.
The beneficial effect of the agents is proved by the professional literature and popular treatment experiences.
The creams are prepared with the following agents: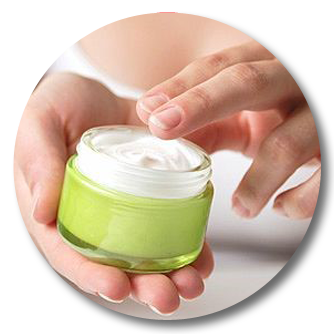 Geranium oil, Pelargonium odoratissium
Aetheroleum Cinnamomi
---
Cinnamon oil, Cinnamomi Cassiae
---
Aetheroleum Pini – Silvestris
Pine oil, Pinus silvestris
---
Aetheroleum Foenikuli
Fennel, Foeniculum vulgare
---
Aetheroleum Mentha piperité
Peppermint oil, Mentha piperita
---
Aetheroleum Auranti
Orange oil, Citrus aurantium
---
Aetheroleum Lavandulae
Lavender oil Lavandula angustifolia
---
Aetheroleum Thymi
Thyme oil, Thymus serpyllum
---
Aetheroleum Eukalipti
Eucalyptus oil, Eucalyptus globulus
---
Aetheroleum Rozmarini
Rosemary oil, Rosmarimus officinalis
---
Attention: the use of aromatherapy materials is not free of dangers, the adequate doses are very important. Their excessive use might be dangerous. Please contact a professional providing adequate recommendations.